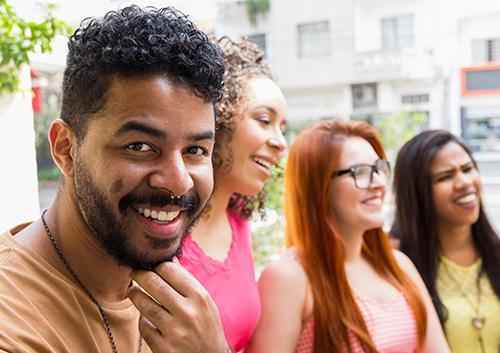 It really doesn't happen very often. But sometimes you bite into something that is much harder than you anticipated. Sometimes you grind your teeth without realizing the pressure you're putting on them. Sometimes you have a cavity that has stealthily developed beneath an earlier filling. And the result is—sometimes you lose a filling.
What to do when this happens? If you're at a loss for ideas, we have some suggestions.
Usually, a cracked, broken, or lost filling is not an emergency situation. That being said, it's still important to . . .
the doctor will be able to give you the best advice as to how to take care of your tooth until you can make an appointment. And if your dental problem might be a dental emergency, we can make sure you are seen as soon as possible.
Keep your tooth and the area around it clean. Brush gently to keep food particles away from the newly exposed tooth surface. You can (carefully) rinse around the area with a bit of water or salt water as recommended.
Your lost filling might not inconvenience you at all. But if you feel sensitivity when the tooth is exposed to air, or when you eat hot or cold foods, or if you feel pain when you bite down, let us know. We can recommend some over the counter medications and pain relievers that can help.
If you're experiencing severe pain, call us at once.
This might not be the time for sticky caramels, frozen treats, or extra-hot beverages. Make yourself comfortable by avoiding chewing with your compromised tooth, and postponing foods that could trigger sensitivity.
Make a dental appointment as soon as you can
Don't put off treatment, even if the filling was a small one, and even if the tooth is causing you no discomfort.
There might be further damage or decay that should be treated. A tooth that required a large filling is often more fragile than an intact tooth, and might need to be fitted with a crown in order to protect it. A missing filling might reveal deep decay which has exposed the pulp of the tooth to infection or damage, and a root canal might be necessary. A seriously damaged tooth might require extraction. Delaying treatment could result in a more complex restoration.
See us as soon as you discover a problem with your filling, and we will make sure not only that your tooth is treated appropriately, but that the reason for the lost filling is discovered. While no filling lasts forever, if the cause of your lost filling is tooth grinding or decay, it's important to be proactive to prevent further problems.
Losing a filling? It really doesn't happen very often. But that's not a lot of comfort if you do happen to lose or break a filling. If you're at a loss for what to do next, contact our SALINE, Michigan office. You'll find yourself smiling again in no time!